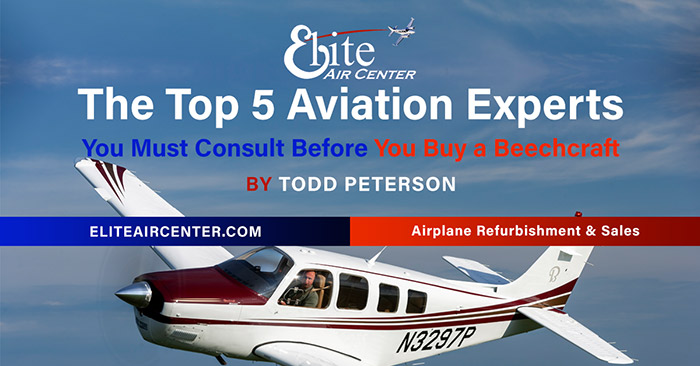 The Top 5 Experts You Must Consult Before Buying A Plane
Posted on June 1, 2020 by Todd Peterson
There's never been a better time to explore the benefits of buying a plane! But buying an aircraft of any size can be a challenge when buying your first one. To ensure that your aircraft purchase goes smoothly - and that you get the right plane for your needs - there are 5 experts you must consult before any money changes hands. The right experts will assist you in getting the safest plane for the best price.
Aircraft Broker: There are few experts as important to the aircraft purchase process as an aircraft broker. An experienced aircraft broker has an in-depth understanding of the market, and will provide invaluable insight to help you avoid mistakes and roadblocks throughout the process. A professional broker will also be able to handle all kinds of purchase-related tasks, from contracts to closing, inspections to foreign purchases. They know how to help you spot a good deal, avoid scams, and have referral recommendations for the other credible experts to consult before you finalize your aircraft purchase.
A & P Mechanic: Just as you wouldn't buy a house before having it inspected, it's important to have an experienced aviation mechanic thoroughly inspect any aircraft you want to buy. A pre-purchase inspection is a critical part of making sure your aircraft is free from serious mechanical issues. Your aircraft broker might have a mechanic on staff as part of their services.
Aviation Attorney. Buying a plane is not only a financial process, but a legal one as well. This is why you need to have an experienced aviation attorney examine any contracts or other documents involved in the purchase process. A good attorney can help you protect yourself and your investment from fraud.
Aircraft Insurance Agent: Buying a plane is a big investment, which means that you will need to protect it with insurance coverage. That makes an insurance agent with aviation insurance experience another top expert you will need when buying a plane. Not all insurance agents have aircraft expertise, but your aircraft broker should be able to put you in touch with one within their referral network.
Aviation Accountant: Finally, feeling confident that you are making the most of your aircraft investment requires someone with aviation accounting expertise. For this reason, it's important to consult a tax and accounting expert who knows all the ins and outs of aircraft-related finances and tax deductions, and provide valuable information which can make your purchase a wise investment.
If you'd like additional information about buying a plane, contact Elite Air Center. As experienced aircraft brokers, we can help guide you through the purchase process, start to finish, as well as connect you with the experts you need to make a great investment.